Typhoon Haiyan, the biggest storm in history, struck Tacloban, Philippines in 2013. In any calamity, children are the most affected. And with one of this magnitude, where 10,000 people are believed dead, the children are left afraid and traumatized. In the aftermath of such disaster, how can these children hope to live a happy childhood? Bench, the Philippines' largest fashion retail brand, wanted to help the children.
Children aren't children if they can't play--and with the typhoon survivors, play can bring back a sense of normalcy, where they learn to live a life worth living and not just focus on surviving. We didn't just give the children toys--we gave them tools for play therapy. Each doll-making kit gave children the freedom to express their creativity, as each child could make the doll their own. And Doll-making workshops allow them to reconnect with others. Online, the GIFs were colorful, cute, and highly shareable. With every GIF bought and shared online, an equivalent doll-making kit was sent to Tacloban.
The gifs sold out in the first three days. The real gifts were given to thousands of children. Over half-a-million Pesos was raised to help rebuild their lives. To date, more gifs are being made. And with every GIF bought and every gift given, the children affected by Typhoon Haiyan can live with laughter and play once again.
​​​​​​​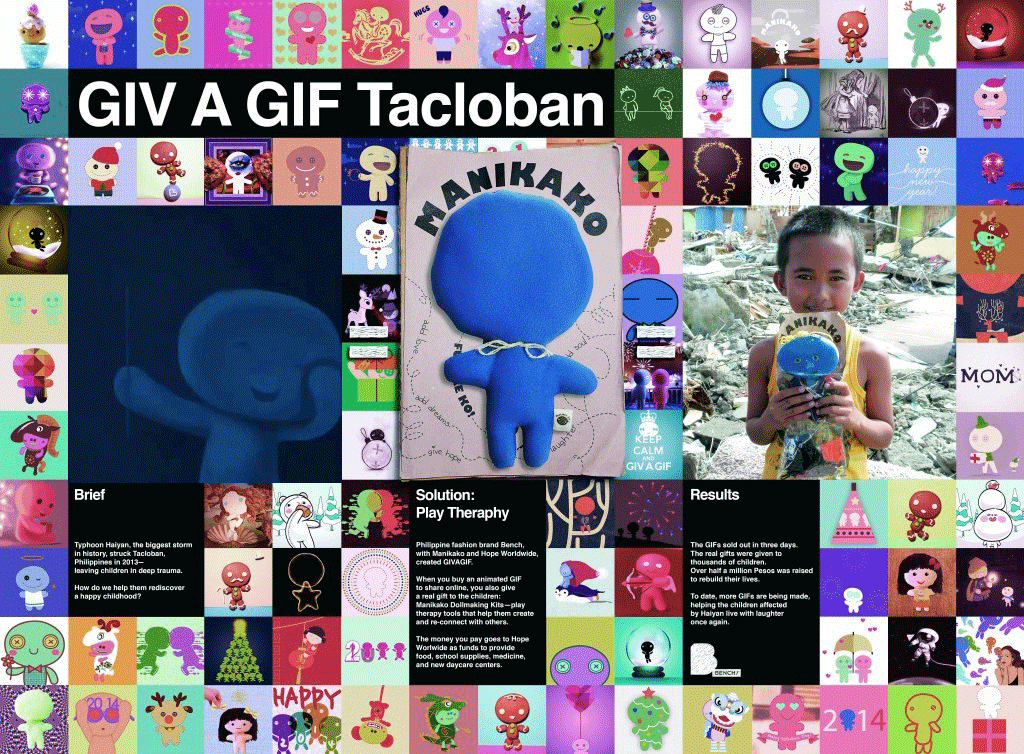 Giv A GIF Website Intro Video:
Agency:
TBWA\Santiago Mangada Puno
Creative Director:
Joey David-Tiempo
Associate Creative Director:
Ali Silao
Art Director:
Ali Silao, Chloe Arevalo

Copywriter:
Joey David-Tiempo, Paolo Salcedo
Managing Director:
Portia Catuira
Illustrators:
TBWA\Santiago Mangada Puno Art Directors and Design Team
Web Designer: 
CJ De Silva-Ong
Web Developer:
Ralph Reyes, Dianne Madamba
Information Architect:
Mark Baul
Agency Producers:
Emilie Batard, Maan Dela Cruz
One Show 2014:
Merit / Design For The Greater Good